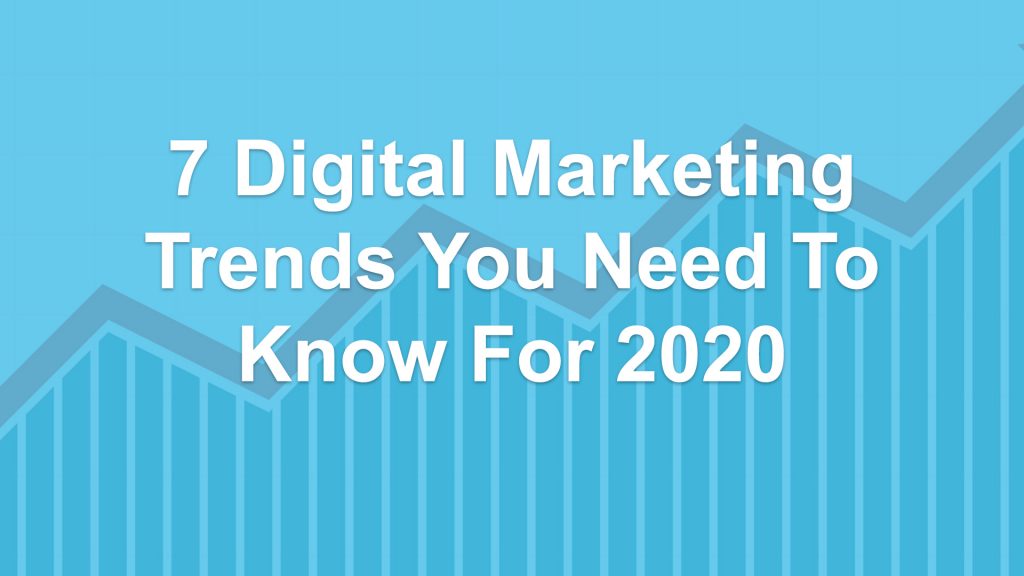 7 Digital Marketing Trends You Need To Know For 2020
2020 is here, not only is it a new year but it's also a new decade. In the 2010s, marketing made huge strides with the introduction of Facebook Ads, Instagram's IGTV, new techniques of SEO and much more. 
With a new decade means new technologies and trends. We delve into the marketing trends you need to know for 2020.
Customer Experience
We're already seeing shifts in beliefs about what marketing actually is, so we're expecting 2020 to be the year of the customer. It's now not all about convincing people to buy from your company but prioritising fantastic customer service that keeps customers coming back. By building a positive business culture and providing great customer service the marketing side almost takes care of itself.
With the introduction of chatbots, providing customer service has never been easier. Modern-day websites are adding the chatbot feature to allow customers to get an instant response which is usually quicker than email. This is increasingly popular with Millenials as they prefer digital conversation over having a live conversation as it's almost instant. 
Providing excellent customer service is a great way to get the word out about your company without it even costing you a penny. 
Visual Content
Research has shown that people prefer visual content to plain text. Just look at the growth of image and video-focused platforms such as Instagram, Pinterest, TikTok and YouTube. Images already account for 19% of searches on Google and 62% of millennials have already stated they are more interested in visual search than anything else. 
Creating exciting and enticing images, infographics, animation and video will not only help your brand stand out but will also help you build links as other websites are now more willing to host images over the written word.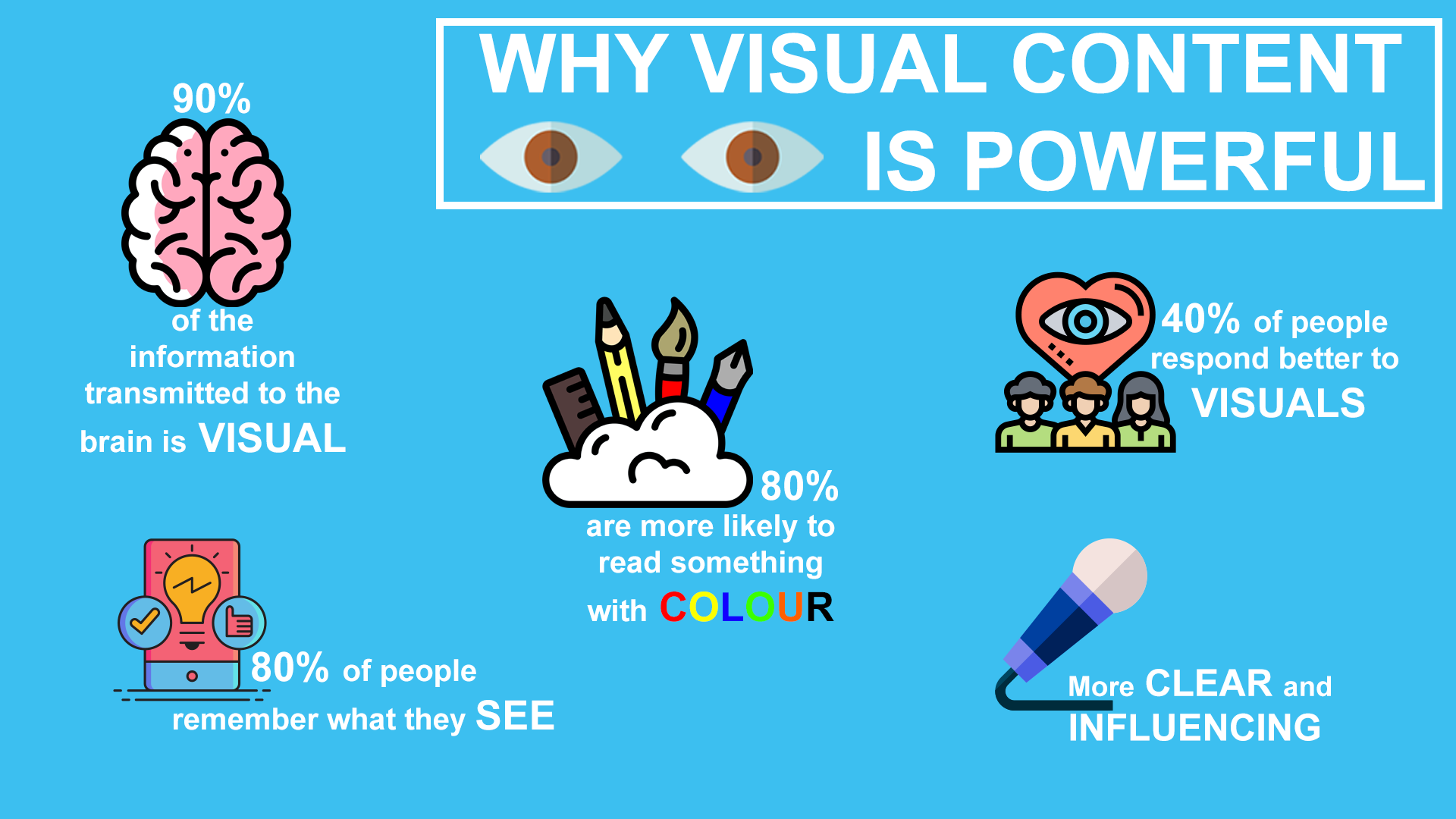 (We bet you'll remember this infographic)
Voice Search
With the introduction of smart speakers such as the Amazon Echo and Google Home, Voice Searches are on the rise. It is predicted that at the end of 2021 there will be more than 1.6 billion people using voice searches on a regular basis. 
It might be time to consider implementing a voice search for your upcoming marketing strategy.
Interactive Content
Want your audience to engage in your product, website or social ad? Interactive Content could be the key to this. It helps to form a conversation in which you don't have to actively participate. 
Creating interactive content doesn't have to be difficult, it could be as simple as offering free, instant quotes allowing the user to fill in a form to go to the next stage and then they will receive a quote via email. 
The online digital media company, Buzzfeed seems to dominate the online world with internet quizzes which can be silly or controversial but this always creates a conversation with users. In fact, one quiz once got over 22 million views. 
It's human nature to interact with something so why not use this to your advantage?
Smart Bidding in Google Ads
Smart Bidding is a set of automated bid strategies in Google Ads that use machine learning to maximise conversions. Google looks at historical search behaviour and contextual data to predict the likelihood of conversion and then increases your bids when a conversion appears more likely. 
Google's Smart bidding strategies allow your campaigns to utilize the data it collects over time so your ads appear in front of customers that have shown more intent. If a particular keyword converts well, it will be prioritised. If users in a certain Geographical location are converting well, that location will be prioritized. If users convert better at a particular time of day or day of the month, this will affect the bidding. And so on..
Smart Display
Smart Display campaigns are available on the Google Display network. You upload your Display Banners, assign a landing page and then Google takes over the targeting. A negative to these campaigns can be that there isn't much visualisation on what targeting is working and what's not. But, from our experience, they work really well!
Smart Shopping
Smart shopping campaigns allow advertisers to run product listing adverts across multiple platforms such as: Search, Display, Youtube & Gmail. Smart shopping campaigns take into account key user interests, demographics, users who have already visited the website to optimise & retarget products to those who are most interested/likely to purchase. This campaign type is fully automated using smart bidding & works cross-platform to gain the best possible ROI for e-commerce.
Smart Campaigns 
Another new campaign type that has been made available in recent months is the Smart Campaigns. These campaigns utilise call extensions and map listings to help drive footfall to your Google my Business locations. 
Personalisation
In the old days when Blockbuster still existed, the guy behind the counter would know your name as you visited so often on a Saturday night. In the digital age personalisation is a powerful tool where a company knows what you are planning on buying before you've even thought about it. Changing a merge tag through emails is an easy way to add personalisation.
For example: sending an email through Mailchimp with the merge tag *|FNAME|* will automatically change the name in the email to the one that is listed in the mailing list. Thus making the recipient feel like the email was sent one by one by the company they have subscribed to.
Google Adwords, Facebook Ads, Emails, and Rewards and Incentives are a great way to make the user feel like the whole digital world is personalised for them. Making the user feel like you're talking to them personally is a great marketing technique and has been around for decades. 
VR and AR Marketing
AR (Augmented Reality) and VR (Virtual Reality) are quickly becoming more common within marketing, allowing brands to change standard marketing into a completely interactive experience. 
Many people have the assumption that VR is strictly for video gamers and something that requires a heavy investment in technology to enjoy the virtual experience. However, this isn't the case as now most people have their own little VR device in their pocket. VR marketing allows companies to bridge the gap between experience and action helping to promote products as a digital experience in place of a physical one. 
Inviting your customer along for the journey will really help to engage your customers as they will be invested in the product alongside the company. 
AR is now an emerging trend in marketing and sales strategies. It allows customers to have a unique experience within the convenience of tapping into their mobile devices. By using AR, businesses will eventually be able to upgrade the experience they offer customers leading to business opportunities and brand awareness. 
Brands can use AR to allow customers to try their products before they buy them. A good example of this is Glasses Direct Virtual Try-On. This allows customers the opportunity to try on a style of glasses before they buy the product. The website scans the users face creating virtual reality and then they can choose the glasses.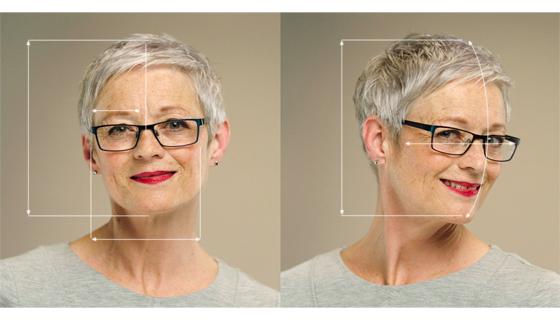 AR is not a new technology but has come on since the launch of Pokemon GO! with more people willing to interact with augmented and virtual reality. 
So there you have it, our top picks of digital marketing trends to watch out for in 2020. Did we miss anything? Let us know in the comments below.