The Automotive industry is an incredibly competitive sector and companies are constantly looking for avenues to increase leads and sales.
It's for this reason that Digital Marketing should be a part of your advertising arsenal and if you're not doing some sort of online marketing already, you are falling behind your competition.
For example, 2021 saw UK digital marketing spend increase 42% year-on-year to over £23b (highest spend ever) and now accounts for 75% of marketing spend, far surpassing traditional advertising.
Let's have a chat
Learn more about how we boost digital marketing for Automotive companies!
Not only that, 69% of people who said they used YouTube in the buying process of a car said they were influenced by it – more than TV, magazines and newspapers!
It's pretty clear from these statistics that there's absolutely no excuse not to have an automotive digital marketing strategy if you are serious about competing in todays competitive automotive landscape.
Whether you're an auto dealership, car finance / rental company or any business that falls under the umbrella of Automotive, there is plenty that you could be doing online to increase profits…
What is Automotive SEO?
Automotive SEO (Automotive search engine optimisation) is a Digital Marketing strategy tailored uniquely to brands in the automotive industry to get them more visibility in search engines. Whilst many techniques will remain the same as a regular SEO strategy, there are a unique set of optimisations that are specific to automotive websites.
Why Choose Limelight?
Limelight Digital have experience working with many clients from all sub-sectors of the automotive industry.
Just some of the household names we've worked with include Franchise Dealerships, Car Supermarkets, Car Finance Companies, Luxury Car Dealerships & Car Buying Services such as:
Sandicliffe
Stephen James
Peter Vardy
Peter Vardy Carstore
Motorpoint
CarMoney
Forza Finance
Saxton 4×4
WeBuyPrestigeCar.com
Cargiant
PremiumShield
Ron Brooks
Vehicle Contracts
Where our clients have been featured
Through our expert Digital PR & Content Marketing services we have helped each of our Automotive clients achieve incredible coverage and exposure on UK national news sites and Automotive industry magazines.
As well as the traditional benefit of increased brand visibility, the press coverage we've got for our clients has helped them improve their SEO, get more website traffic and increased sales.
We work with you and your automotive brand to highlight websites that you'd like to be featured on and set to work on creating content that, through our years of experience, we know they will love.
You'll probably already know from experience, but PR coverage can be a tough nut to crack. However, at Limelight we have numerous Automotive journalism contacts that we enjoy a great relationship with and this give us the head start on getting your company the exposure it deserves.
Search Engine Optimisation (SEO) for the Automotive Industry
Search Engine Optimisation is the act of optimising your website to give it the best possible chance of appearing in Search Engine Results pages, such as Google, and benefiting from the free website traffic this provides.
Automotive SEO Services can help to turn your Car Dealership website from a barren wasteland into a lead generation machine.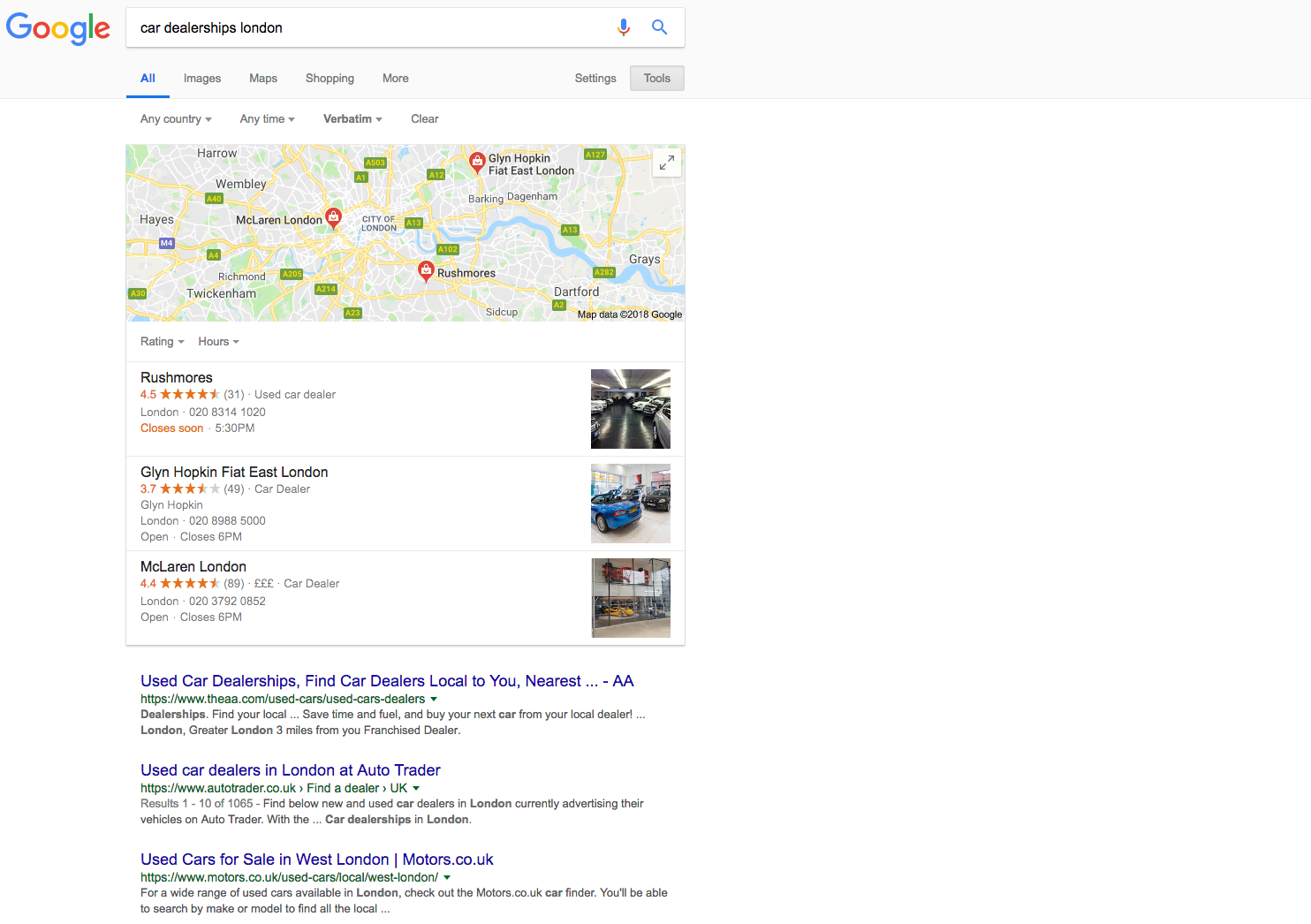 Today, Search Engines, such as Google, have become ever so clever at understanding what a user wants when they enter a search and it's the job of Automotive SEO Companies to make sure that your website is appearing for key searches that your potential customers are entering.
Want to be the first website that is shown when a user enters 'Car Dealership London' into Google? An Automotive SEO strategy from an Agency with experience in Car Dealership SEO can help you achieve this.
Pay-Per-Click (PPC) Advertising for the Automotive Industry
Pay-per-Click is the name for a Digital Marketing method that does exactly what it says on the tin… you pay every time someone clicks your ad!
Also simply referred to as 'Paid Advertising', PPC is usually associated with Google's very own advertising platform, Google Ads. However, this method of advertising is also used on Social Media platforms such as Facebook, Twitter, Instagram & LinkedIn.

What makes PPC advertising so attractive to Automotive business owners is that you can track exactly how many views (impressions) and clicks your advert gets and calculate ROI to an individual penny. You can also stop and start the advertising whenever you like and choose how much you want to spend from a few hundred pounds a month to several thousands.
Take a billboard with your latest car deal on it for example. Can you target who sees it by age, gender, salary or interests? No. Can you see ROI and pause and resume the advert whenever you want? No. PPC gives you all this flexibility and more.
PPC is perfect for achieving a number of goals and it's up to you which one (or all) of them you choose to focus on. Do you need to drive phone calls? Are enquiries via website forms your KPI? What about increased footfall to your car dealership? Yes that's right, Google Ads can even track that now!
Take Hyundai UK for example, their Google Ads Case Study revealed that PPC ads lead to 7,980 monthly visits to physical retail locations, 3.4% of paid clicks resulted in retailer visits and the ads generated a whopping 1,737% return on ad spend. Not bad.

Social Media Management for the Automotive Industry
Social Media Management can be a time drain for Automotive businesses and owners who would rather spend the time doing what they do best… running their business.
However, can you afford to neglect Social Media channels when they're constantly evolving and growing and your competition are attracting new customers through them?
Through things such as competitions, boosted posts, interacting with users online and responding to questions, you can help build your automotive brand online. And what's worse than viewing a companies social profiles to see they haven't been active in years?
Stuck for Social Media ideas for your automotive business? We can help.
Auto Shopping Moments – How to Master the Car Buying Sales Path
In today's digital world, car buyers tend to have several touchpoints (known as 'moments') before they finally purchase their vehicle.
Google have outlined 5 key moments where car buyers form their decision and this is how you can master marketing in each of them:
This first stage can take place several months before the deal is closed. The majority of car shoppers enter the buying stage unable to decide which car is best and unaware of the options out there. By reading online blogs, forums and review sites their opinion on which car is best is starting to form.
Is this car right for me?
The next stage is where the shopper starts to make practical considerations such as fuel efficiency, boot space, mileage, reliability etc. Watching YouTube videos of features, opinions and guides is where the shopper starts to whittle down their options.

This is where search really plays a big part. Searches around "the best cars under £X" continue to grow in popularity over the years. How can you steal some of this high value web traffic?
Where should I buy this car?
Whilst digital plays a huge role in the car buying process these days, shoppers may still want to visit a dealership before purchasing. Whether it's for a test drive or to just see the vehicle face-to-face, it's still a part of the sales funnel. Searches such as "car dealers near me", "car dealers open today" and searches for their phone numbers are incredibly popular and continue to grow. Make sure your Google My Business listing is setup and optimised to benefit from Google Local Search.
Am I getting a deal on this car?
In the old days you'd have to ask your friends and family and ultimately go with your gut when deciding whether or not you're getting a good deal on your new motor. Today we can find out exactly how good the deal is with a quick Google search.